WiLD WEST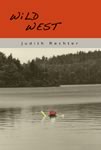 Review
WiLD WEST

,
64 pp., $12,
ISBN 978-0-9729185-4-1, RAW ArT PRESS,
order at www.rawartpress.com.
The poems in Judith Rechter's WiLD WEST are remarkable for their subtlety, restraint, range and intelligence.
There are many surprises in this book: surprising turns of phrase and choices of subject matter. Rechter is comfortable writing in both an autobiographical, confessional mode and in the voices of people very different from her. This is poetry suffused with a warm humanity that never turns sentimental or heavy-handedly ironic.
The most memorable poems come near the beginning: they are a series about Molly, who appears to be (according to Rechter's note) "a skeleton abandoned by a defrocked physician." The narrator adopts Molly, dresses her and lives with her for awhile. These poems should be experienced for their Kafkaesque but casual quirkiness. Sometimes, Molly literally comes to life and is endowed with human emotions. "My Molly You Were Spying" begins:
You saw us walk out of the movies dazed from a bear-like darkness arm in arm; I had just spilled popcorn over her dress and she clung to me in the scary parts. You questioned me about whom I was with. Always the correctness of inflection and the despotism of will. Amid the fierce Christmas lights of the mall, I looked for exits and saw your black cascading hair that fell so justly over your eyes.
Molly is only a skeleton, but she can see and question and feel jealous. The narrator has become a kind of ventriloquist who breathes thoughts and a soul into an inanimate object. The detail of "correctness of inflection/and the despotism of will" is startling. Similarly, the hair falling "justly" over Molly's eyes—a quick, shorthand way of saying both "self-righteous" and "neat"—is beautifully done.
The narrator does have actual human companionship in this poem, but that she is compelled to ascribe emotions to a skeleton, as if she were a little girl with a doll, tells the reader a great deal about the solitary life she leads.
In the final Molly poem, the narrator is selling Ms. Molly, a companion for 300 dollars or whatever you might have: she's in mint condition, a good sort, except for an inverted pelvis; intact and polite, might have a great career in the right hands (not mine). The "relationship" is thus completed. Molly was found and now she is being sold. Both owner and "pet" have benefited from their time together.
In the ironically titled "Indivisible," Rechter paints a shrewd picture of Mr. Mayhew, a former
prison guard now working as a teacher's aide:
what's a minority? asked Angel
you are he said with a smile.
Rechter can tell this story with hardly any punctuation, and pack volumes into a couple of understated lines; it is an admirable skill. The poem ends:
we're not learning anything said Anna
it's hard to tell what learning is Mr. Mayhew said.
Mayhew is an insensitive bigot, yes, but the poem is layered enough to also become a convincing picture of a blundering amateur in an inhospitable environment, and a school system on the verge of chaos.
The title poem—which, I am told, some readers are unable to finish—begins:
I got first digs on his ass, let Brito blow out his brains,
no yakking, no fuss, we drag this fag boy out of his classic.
Rechter captures the criminal mentality and parlance perfectly, and the poem wildly travels to many surprising places before ending with these lines:
we made a plea
two counts reduced and two thrown out, five years is not
that long if I'm good and I am good.
The poems of WiLD WEST, set mostly in California, are filled with the atmosphere of the far west: it is a very contemporary world of sunsets and sand dunes, bad schools and unusual relationships, violence and disease. Rechter has recreated this world with tenderness and polish.
[Alex M. Frankel is a writer and poet residing in Los Angeles. He has been published in various journals, notably the South Carolina Review.]
http://www.poeticdiversity.org/main/columns.php?recordID=1341&date=2008-08-01
* * *